A to Z Guide of What it Takes to be a Competitive Team Gymnast
A to Z Guide of What it Takes to be a Competitive Team Gymnast
Oct 10, 2017
Have you ever wondered what it takes to be a competitive team gymnast? While we could never summarize competitive gymnastics in a single blog post, we put together an A to Z list. If you have ever considered competitive gymnastics for your athlete, this is a good place to start.
A is for… Athletic
Competitive gymnastics consists of a lot of conditioning, flexibility, endurance, and strength. Needless to say, being athletic is a necessity to be on a competitive gymnastics team!
B is for… Balance
Because competitive athletes spend so much time training it is crucial for them to develop the tools to balance school, social activities, and gymnastics. Competitive gymnasts become pros early on at time management and handling stressors.
C is for… Commitment
Gymnastics is a lifestyle that undoubtedly is a huge commitment. This commitment is not only made to oneself but also to the team, coaches, and gymnastics center.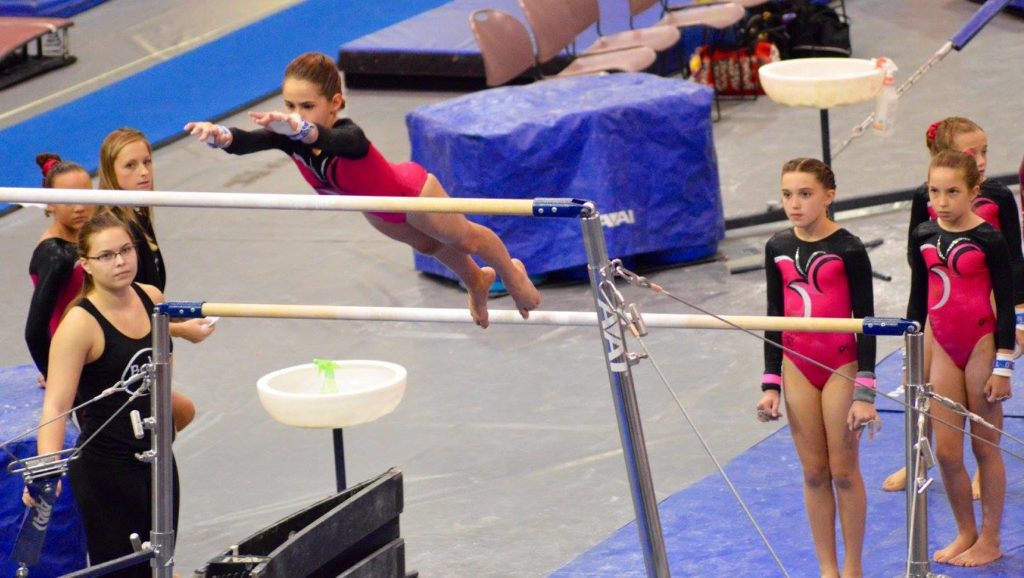 D is for …Determination
Some days in the gym consists of mastering one skill after another. Other days gymnasts may struggle to finish an assignment they easily completed the day before. Regardless gymnastics, like many other sports, requires determination and perseverance.
E is for… Expect Events
Competitive gymnastics is not solely limited to the gymnastics center, as there are meets, team bonding events, etc. that are organized throughout the year. Last year our team had the honor of performing during a University of Florida Gator Gymnastics meet!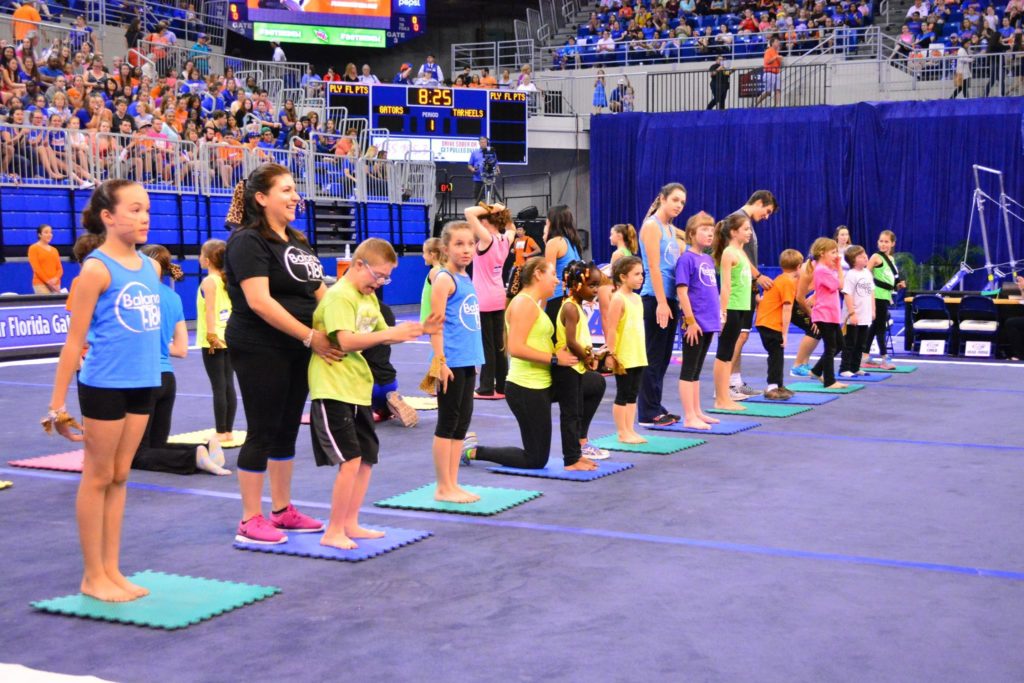 F is for… Friends become Family
Teammates become sisters and coaches start to become like second parents. The gym is a home away from home and we wouldn't have it any other way.
G is for… Grips
It's not uncommon for gymnasts to have some gnarly calluses and blisters on their hands as a result of swinging on the uneven bars for hours. Grips, a type of handguard, help prevent excessive ripping and are a rite of passage in gymnastics.
H is for… Hours
Competitive gymnastics is not for the weary of heart. Athletes train numerous hours a week depending on what level they are. Our gymnasts currently practice 6-10 hours a week.
I is for… Inspire
Our competitive team starts every practice with reading off an inspirational quote from famous authors, important leaders, celebrities, professional athletes, etc. to set the tone for practice. One of our core values at Balance 180 is to inspire our athletes. So important for all competitive team gymnasts.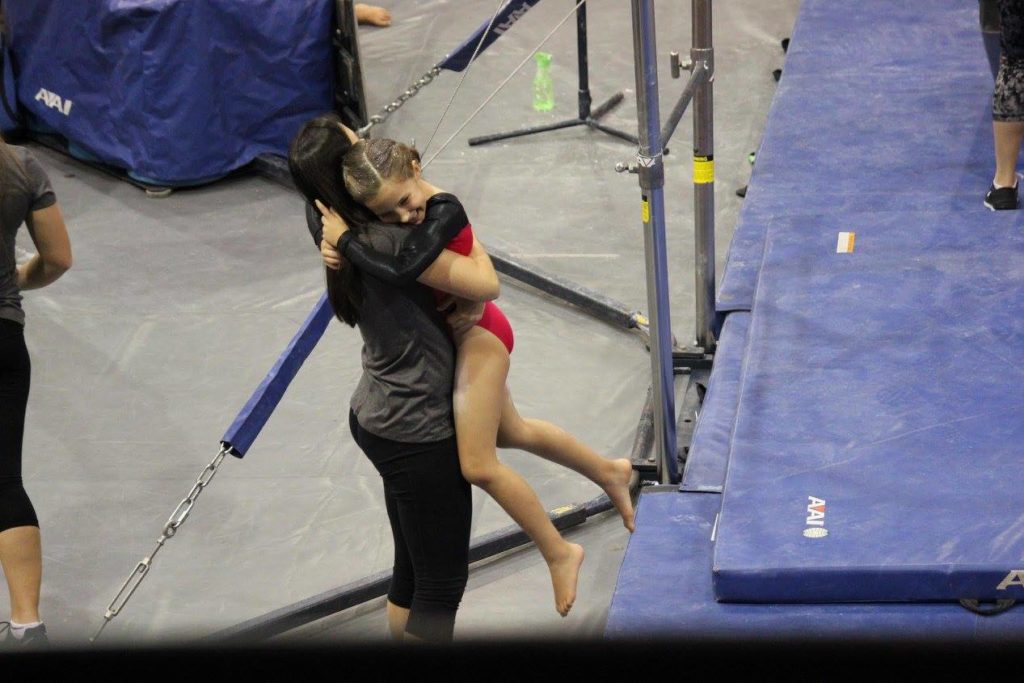 J is for… Judges
Competitive gymnastics is known for its performance, for the hard skills, the crazy flips, and the gravity-defying movements. What is lesser known are the judges on the sidelines, furiously scribbling away and noting every minuscule mistake. In training, we tediously attempt to perfect routines to prepare for these judges.
K is for… Kips
Kips are one of the hardest critical skills to master on bars. You will know when a gymnast masters this skill at the gym because there will be lots of cheering, high fiving, hollering, and victory bell ringing. Big accomplishment!
L is for… Love for Leotards
Black ones, Blue ones, Velvet ones, and new ones. Leotards are at the heart of gymnastics, and a way for athletes to express their personalities. Not to mention our competitive athletes compete in a gorgeous, long sleeved, rhinestone-studded leotard!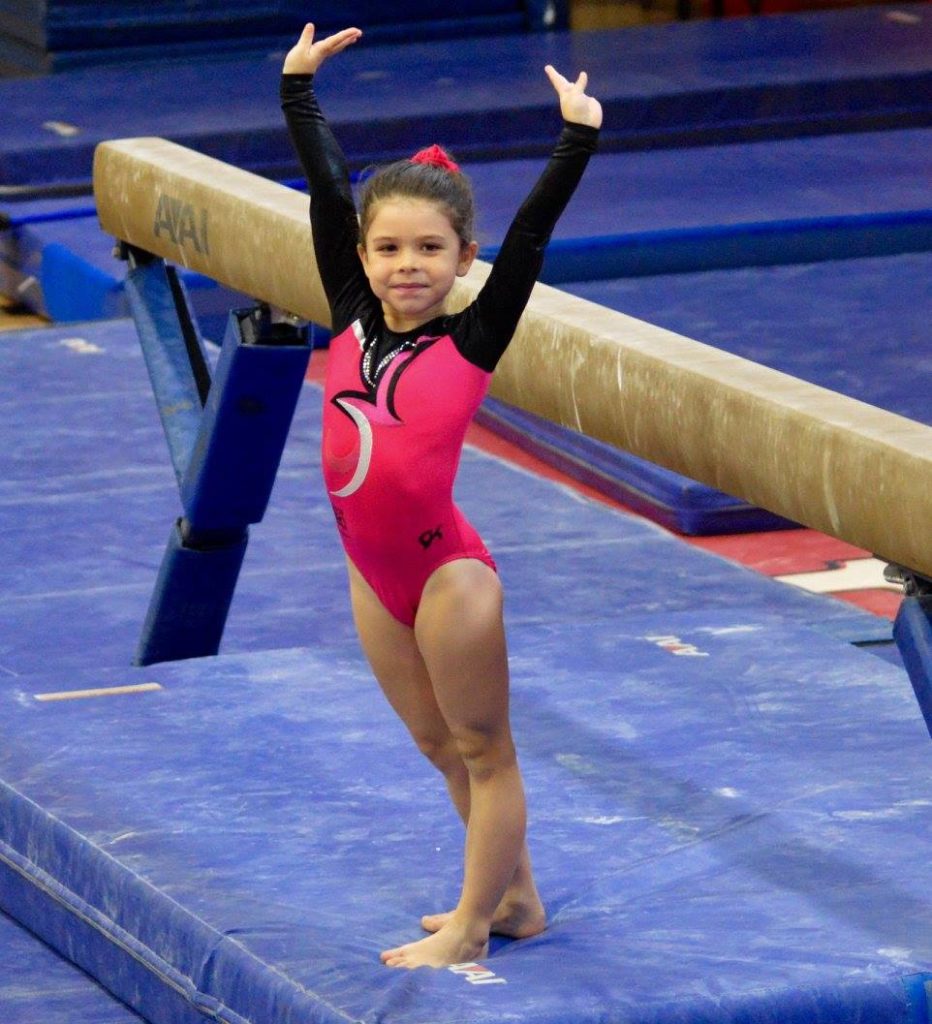 M is for… Medals
There is nothing better than hearing the sound of your name being called to the podium and being awarded a beautifully crafted medal. Well, maybe the sound of multiple clanking medals is a little better, but still, you get the point.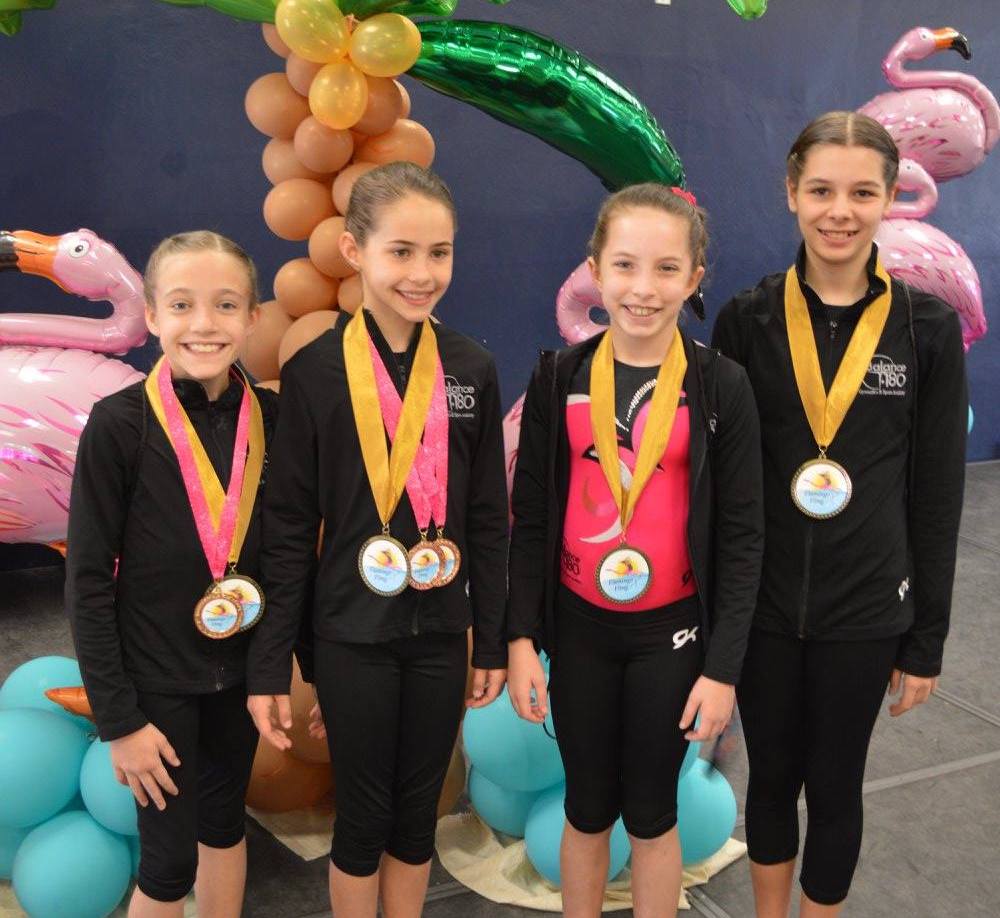 N is for… Numerous Naps
Learning how to take advantage of the twenty-minute drive to the gymnastics center is a talent most competitive gymnasts (have to) master almost immediately.
O is for… Olympic Order
Did you know that the Olympic order of events for women's competitive gymnastics is vault, bars, beam, floor?
P is for… Plenty of Passion
Coaches become more than random strangers who teach athletes how to master a simple skill. They become mentors and role models on how to preserve, how to push oneself further than they thought they could go.Our competitive coaching team is all former gymnasts who are passionate about the sport of gymnastics and passing along their love of the sport to our gymnasts.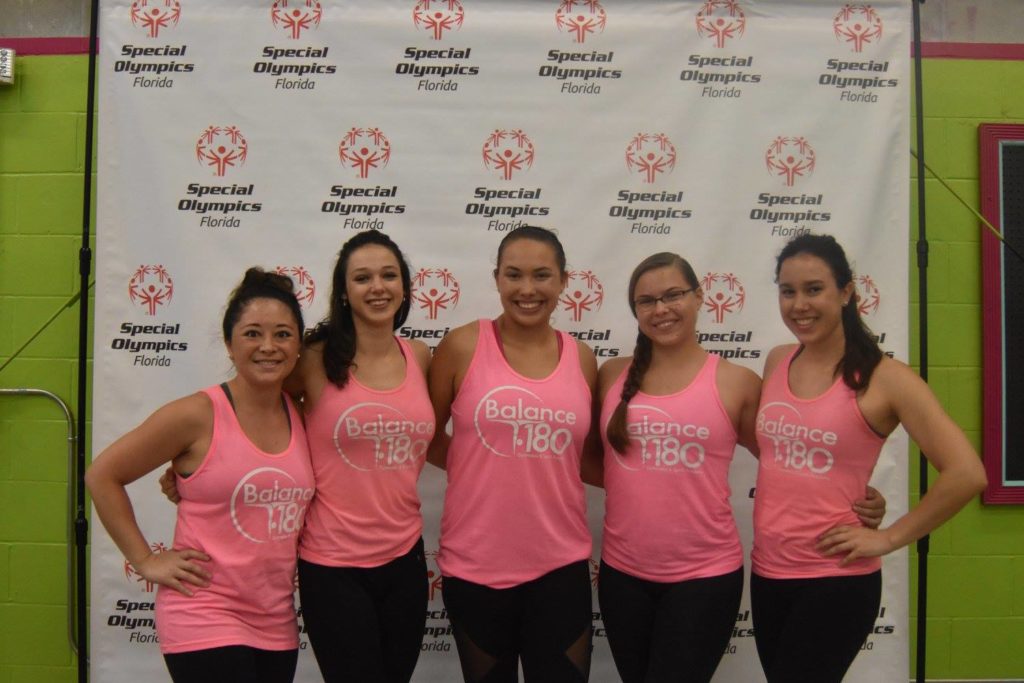 Q is for… Quality and Quantity
Competitive gymnastics is all about proper form and technique...performing the skill perfectly! Repeating the skill over and over and OVER until the skill becomes second nature for the gymnast is very important.
R is for… Respect
It is amazing to see the respect our team athletes have for each other and their coaches. We build a TEAM that supports, challenges, and inspires each gymnast to reach her potential.
S is for… Some Serious Strength
Gymnastics conditioning is no joke. And no not conditioner like the stuff you put in your hair, we are talking sit-ups and push-ups for days. Our athletes could give some of the parents and coaches a run for their money.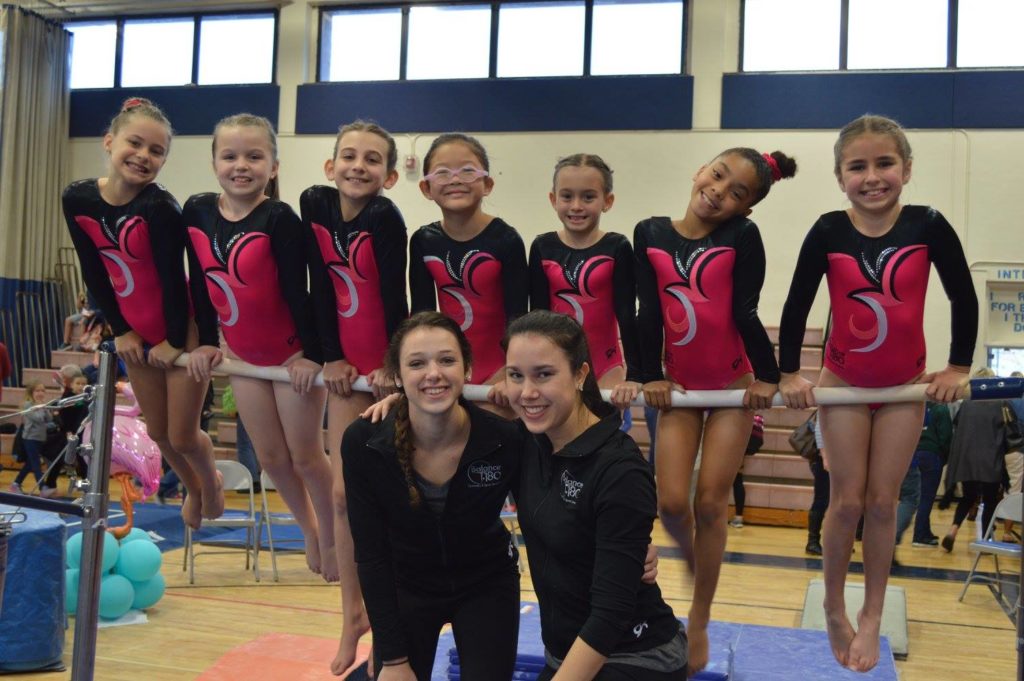 T is for… Tons of Teamwork
Although gymnasts are scored individually in competitions, gymnastics is a team sport. Athletes rely on their teammates for support and encouragement during practices and competition. And of course, we can't forget the giant trophies allotted to team awards.
U is for… USA Gymnastics
USA Gymnastics is a national organization dedicated to creating a safe and well-regulated environment for gymnastics all across the United States. They set rules and policies for competitive gymnastics. All of our team coaches are USAG certified and our gymnasts become members so that they are eligible to compete at competitions.
V is for… Value of Victory
Winning and losing gracefully is something all gymnasts learn. Sometimes you have a great meet or practice, and sometimes you do not. Learning to celebrate the small victories along the way (mastering a new skill) is equally as important as the large victories (moving up to the next level).
W is for… Walking (on your hands, of course!)
Gymnasts spend equal, if not more time, upside and on their hands than most people do right side up.
X is for… eXciting experience
For a competitive gymnast, gymnastics is a journey that can be exciting, frustrating, thrilling, disappointing, and amazing. Our hope is that the sport will be LIFE CHANGING and that our team coaches will do our part to make the sport a great experience for each of our competitive team athletes.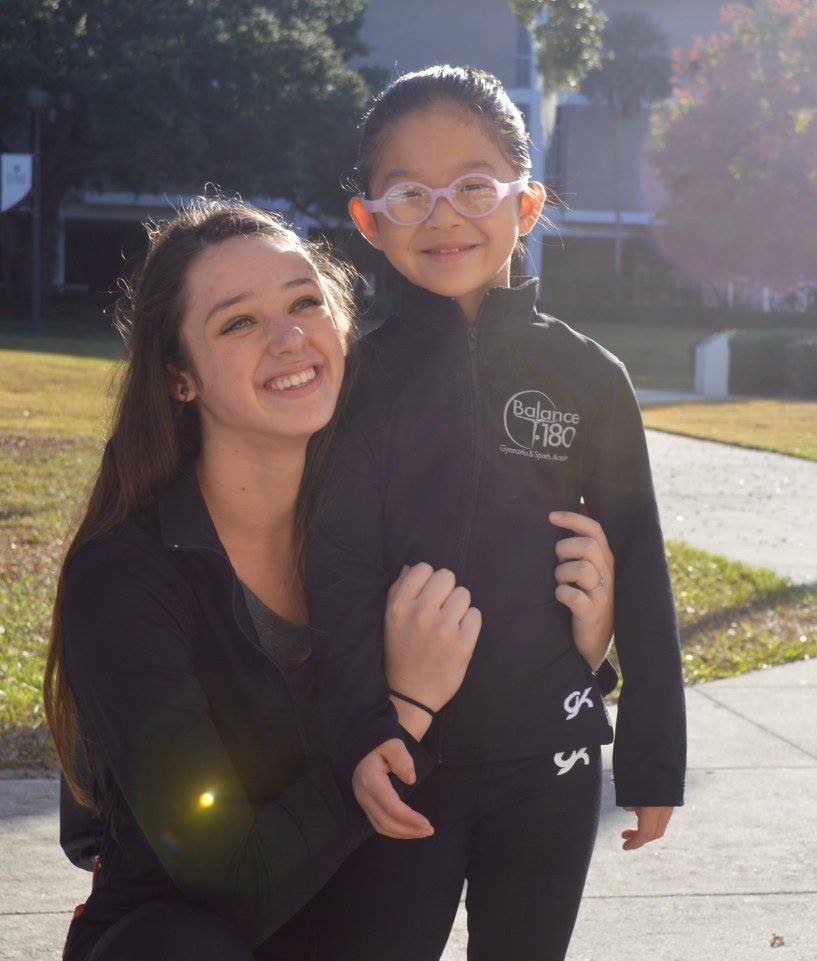 Y is for… You can do it!
Competitive gymnasts balance school, extracurricular activities, and lots of hours at the gym and traveling for meets. Along with great time management skills, the gymnasts need encouragement from their family, teammates, and coaches to keep their drive and stay motivated.
Z is for… Zero Hands
For parents of competitive team gymnasts, be prepared for the day your gymnast says "Look mom and dad, no hands!" as they proudly perform a "hands-free" skill (back tuck, front tuck, ariel, etc.) for the first time.